Impact wales Ltd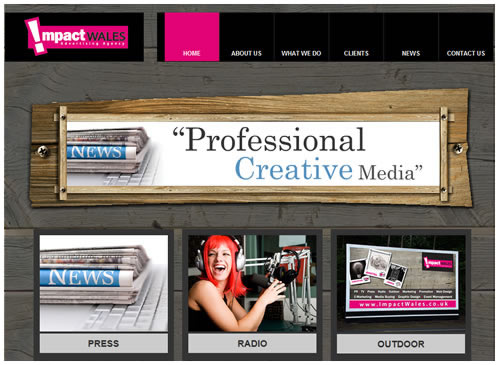 Impact Wales came to us wanting a fresh new identity from the logo brand through to the website. The look we both settled on for the logo was to then be used throughout the look of the website. Being an advertising company the client wanted to show the areas that they specialised in on the home page, with a funky look to it, perhaps even as if it was a sort of advertising board itself. The look we came up with was exactly what they were looking for.
The site was constructed as a static website, which we host on our dedicated server and provide a full support service for.
Latest projects.










Client Testimonial

"In June 2009 my business partner and I decided that the time was right to set up our own Advertising Agency. We had years of experience in the field and all of the tools, skills and expertise needed to make the Agency a huge success, but what we didn't have was a brand...an identity. After chatting with the guys at Solus, telling them our thoughts and ideas, they were able to come up with the perfect solution. They consulted with us every step of the way and because of them we now have a fantastic logo and an amazing website, the business has gone from strength to strength. We cannot speak highly enough about Solus and would definitely call on their services again. Thanks for all of your hard work and patience...it was really appreciated."
Lee Stanley & Gilian Boobier
www.impactwales.co.uk
Blog updates
How People Are Signing In Across the Web
Identity management provider Janrain has just released its latest usage study detailing what social networks and services people use to sign in and share activities across the web. View More
TV Guide Gets a Slick New iPad App
The application features television listings, the latest news from TVGuide.com, video clips and episode sneak peeks. View More